The popular social app WeChat 5.2 latest version update offers a better user experience with its new features that focuses on help its users be quicker, more efficient and provide more control and mobility than ever.
The new WeChat 5.2 app software presents a refined Menu Bar with several key features found via three main sections: Chats, Discover, and Contacts. Chats and Contacts are gives you mostly the same but wider functionality, while Discover contains fun ways to meet new people or interact better with existing friends.
An even more exciting way to add a new contact is via the Friend Radar (found in Menu Bar > Add Contacts), which scans nearby WeChat users to connect with.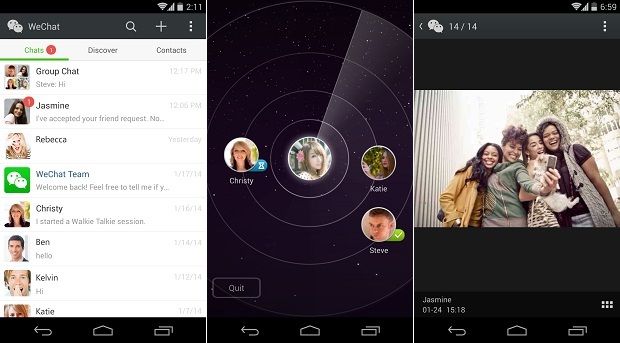 With this updated WeChat 5.2 application, all users have the ability to broadcast to their contacts their current whereabouts, this allows them to easily look for each other in person.
For all those photo and selfie lovers, the newly added Group Chat Photo Album offers its user more convenience in storing all photos shared in group conversations.
Also, with the new Universal Search feature, there is no need Scrolling through the message archive. This allows for faster recovery of important information that's buried in the trove of chats.
Lastly, the WebChat 5.2 introduces the new Contact List Customization which introduces better management of contact profiles. This brings plenty of refinements to the capabilities we loved in the previous version 5.1.
All these additional features provided by WeChat 5.2 really offers so many improvements and makes it one of the best Social Media Network app released in the market.