Another good news from Touch Mobile! TM now offers a better call and text promo that fits your budget, the TM AstigCombo10 Call & Text Promo to ALL Networks. Subscribing to this network promo gives you the ability to stay in touch with your loved ones and friends anywhere you are and any time you want.
With this cheap promo from Touch Mobile network, you will definitely enjoy free 10-minute of calls to any Globe and TM subscribers. This Call and text promo also allows you to send 50-Texts to Globe, TM, Smart, Sun and Talk N' Text subscribers. The package promo is valid for 1-day. Promo price is only Php 10.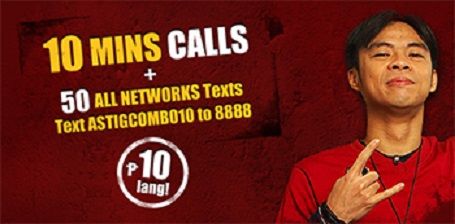 How to Register to TM AstigCombo10 Call & Text to ALL Networks Combo
1. To be registered, just ASTIGCOMBO10 and send to 8888 or
AC10 and send to 8888 or COMBO10 and send to 8888
2. Promo Validity: 1 Day only
3. Package Price: Php 10
4. Included : 10 mins. Call and 50-Texts to ALL Networks for 1 Day
Don't leave just yet since there's more. You simply need Php 2 and you can also have whole day browsing on your Facebook account. How to Do it? After registering to TM AstigCombo10, just text FB2 to 8888 and enjoy FB Likes, sharing and surfing for one (1) day.
This TM AstigCombo10 Call & Text Combo to ALL Networks is available nationwide to TM subscribers only. The allowed 10 mins Call is valid to TM to TM and TM to Globe calls only. TM AstigCombo10 requires no maintaining balance. Promo runs until December 31, 2014. Subscribe and register today!