The excitement never stops with the Talk n Text Unli Promo Plans Unli TRIO & TRI20 Promo for 2014. This gives all Talk n Text subscribers TRINET access with its unlimited texting to Sun Cellular, TNT and Smart Plan subscribers. For only 20 pesos load into your TNT mobile or smartphone, you can now completely enjoy this TNT network service.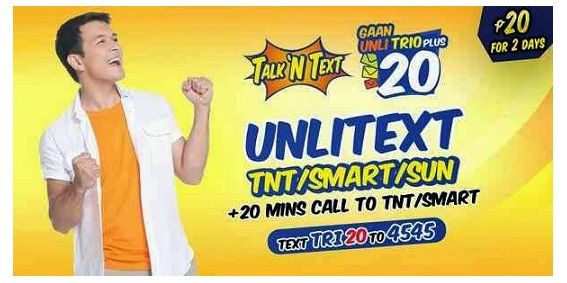 The Unlimited Talk n Text TRINET promo lasts for two days long. Remember, its non-stop SMS texting plus 20 minutes of call. Isn't that the best thing. Hurry! now visit your nearest load retailer and register. Just Convert your regular TNT load to TRIO20 by sending the key code we detailed here below.
* How to Register Gaan Unli TRIO 20 Plus
Promo Mechanics:
Just text TRI20 and send to 4545
Promo Bundles:
Unlimited text to Smart, TNT and Sun
20 minutes of calls to Smart and TNT
Validity: 2 days
Amount: 20 pesos
* How to Register Gaan Unli TRIO TRI15
Just text TRI15 and send to 4545
For only 15 pesos have Unlimited text to Smart, TNT and Sun subscribers.
15 minutes of calls to Smart and TNT
Valid only for 24 hours.
How to CALL or DIAL Gaan Unli Trio TRI20 or TRI15?
To use TRIO20 and TRI15 for calling other smart or TNT subscribers,
Just dial *4545 plus the 11 digit Smart/TNT number of the person that you are trying to call.
Sample format:
*454509280123456
Remember not text to Globe or TM during the promo duration as it will mean normal SMS rates and deduct your current regular load balance. Check out list of other available Talk N Text Plan Promos. For more updates or inquiries just visit the network website and see flyers for more details.