Tweet! Sun Cellular gives you unlimited Twitter access 24 hours a day and 7 days a week with the Twitter 24/7 Sun Cellular Tweet Forever Promo. Ofcourse, you love tweeting and retweeting. And if its free its doubly fun and exciting, isn't it?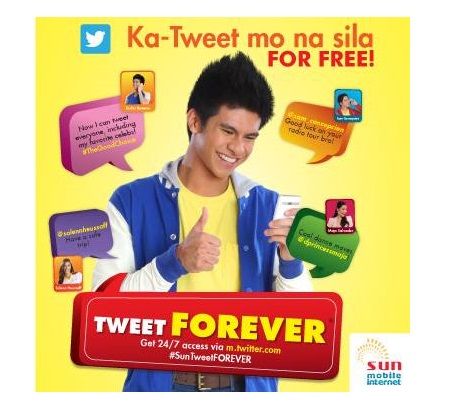 So how do you avail of this Tweet for FREE anytime anywhere promo for Sun cellular?
1. Just connect to the Sun Minternet.
2. Then visit http://m.twitter.com/ on your Sun phone's browser.
3. That's it, your done.
You now have the capability to enjoy Sun Cellular's Tweet forever Promo. Remember to use only your Sun smartphone's default browser to ensure Free tweeting and retweeting.