Sun Cellular 600 Plan Promo allows you to enjoy a brand new smartphone for FREE. Sun Cellular Postpaid asks for only 600 pesos per month subscription charge. Its a truly affordable promo plan and with it comes a good quality phone.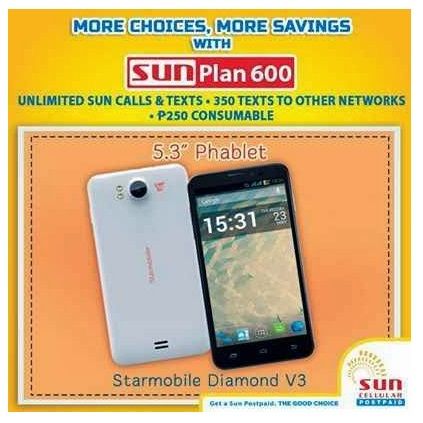 Sun Cellular Promo Postpaid bundled with Starmobile Diamond V3 with Quad-Core processor, 5.3 inch screen size, and 12 Megapixels rear camera, also gives you Unlimited SUN Calls and Texts, Unlimited SUN Calls and Texts, 350 texts to other networks, and P250 consumable load.
For all those interested to subscribe for this Sun Cellular postpaid plan just submit applicaiton online on the Sun Cellular official website or submit the Application Requirements to any Sun Shop nearest you. All applications are subject to Sun Cellular's approval and verification.
What are you waiting for? Grab this rare chance to own a Diamond V3 now from Sun Cellular Promos!