Good news! The Sun Cellular Opera Plan Promo 299 gives you UnliSurf mobile internet browsing. This means you can now stay online 24 hours a day, 7 days a week for a month. That's 30 days of unlimited Facebook access, Online Chat and Twitter tweets from Sun Cellular Opera Plan 299.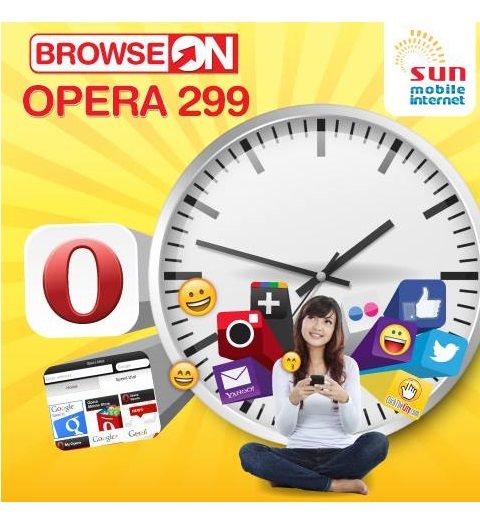 How to register to avail of Sun Cellular Opera Plan 299 Promo:
First be sure you have atleast P300 load in your moible phone.
Then text Opera299 to 247 and wait for the confirmation mesage.
Once you get the message saying you are Already registered, you now can start surfing using Opera Mini mobile browser.
You can download the Opera Mini browser to your mobile phone for FREE. Just visit their website http://m.operamini.com.
You can also use Sun Opera Mini promo with other different denominations. There's the Sun Opera 160 for a 15 days unlimited internet and the Sun Opera 80 for an 8 days only of unlisurf mobile browsing.