That is correct! You read it so clear! Globe Telecom management has decided to further extend its FREE Facebook access for the benefit of the millions of Globe's subscriber customers.
The Free Facebook service offered by Globe Promo, which was initially for only three (3) months paved the way for the globe promo plans to double its mobile data user base this year 2014. Mobile browsing and other data revenues also increased to P11.6 billion as of end-2013, up 42% from P8.2 billion in 2012.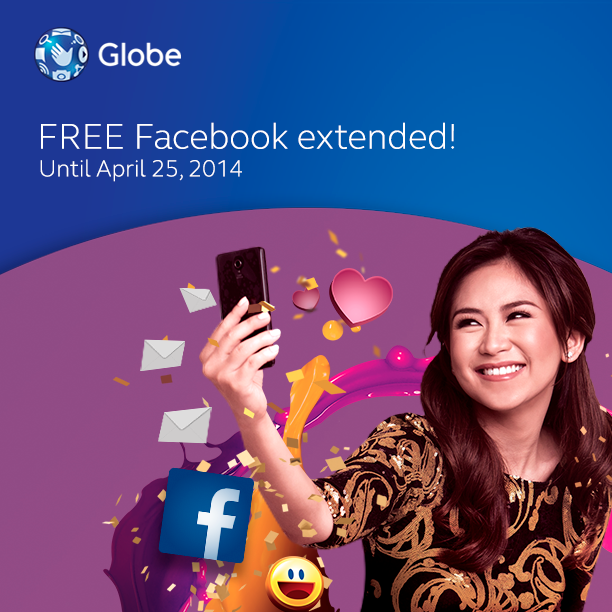 The engineering, business development and marketing teams at both Globe and Facebook have worked together to plan and design the customer experience from scratch. This FREE Facebook service testifies how Globe is transforming itself beyond just an access carrier. Globe is striving to be a leading digital brand catering to the needs of digital Filipinos who need to be connected to their social circles around the world, sharing Mark and Facebook's advocacy to bring the Internet closer to more individuals and empower them with an easy, reliable, and worry-free connection at the comfort of their mobile phone."
Also, please note that those customers who don't have enough prepaid load can "loan" a 10MB data plan for only US$0.23 cents or P10.00 which will be deducted on their succeeding top-up so they can fully explore content outside Facebook, making the experience seamless and worry-free.
All this are available to all Globe Telecom subscribers and customers. Using the latest feature phones and smartphones, subscribers are accessing either the mobile site of Facebook or the Facebook app. All Globe users can post, like, comment, chat, add friends, upload photos, share posts, and more on Facebook without the need for Wi-Fi services.
The FREE Facebook access offer also formed part of Globe Plans and mobile data strategy to grow the number of users who access the Internet on their mobile phones, as well as provide a seamless customer experience with service innovations that address the fear of mobile internet. Now, more than 1% of Facebook users worldwide are using Free Facebook on Globe.
Due to increasing strong demand and customer take-up for one of Globe Telecom's biggest promos to date, Philippines' Globe Promo Plans is extending its Free Facebook offer until April 25. [2021-2022]