Its here for you! The Globe Powersurf prepaid plan provides per MB data charging when browsing the internet using your mobile smartphones. Stay updated with our social friends from Facebook, Twitter, YM and other social networking sites.
With the Powersurf Globe Plan you internet need are handled worry-free of high data charges and standard online time cost.
This new Globe Powersurf mobile browsing promo uses per megabytes or MB charging. Example, with your P15 you can have 20MB valid for 1 day using POWERSURF15. Per MB charging is more applicable on posting status, tweets, sending emails and downloading light apps as this doesn't consume a higher MB. If you want to know more about Globe Powersurt Prepaid Promo continue reading below on how to register and avail Powersurf.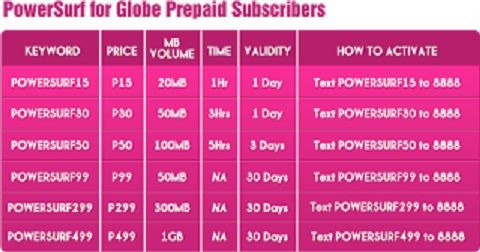 This is How to register Globe Powersurf Prepaid Promo
POWERSURF15
Price: P15
MB Volume: 20MB
Time Based: 1 hour
Validity: 1 day
How to register/activate POWERSURF15?
Just text POWERSURF15 to 8888
POWERSURF30
Price: P30
MB Volume: 50MB
Time Based: 3 hours
Validity: 1 day
How to register/activate POWERSURF30?
Just text POWERSURF30 to 8888
POWERSURF50
Price: P50
MB Volume: 100MB
Time Based: 5 hours
Validity: 3 days
How to register/activate POWERSURF50?
Just text POWERSURF50 to 8888
POWERSURF99
Price: P99
MB Volume: 50MB
Time Based: NA
Validity: 30 days
How to register/activate POWERSURF99?
Just text POWERSURF99 to 8888
POWERSURF299
Price: P299
MB Volume: 300MB
Time Based: NA
Validity: 30 days
How to register/activate POWERSURF299?
Just text POWERSURF299 to 8888
POWERSURF499
Price: P499
MB Volume: 1GB
Time Based: NA
Validity: 30 days
How to register/activate POWERSURF499?
Just text POWERSURF499 to 8888
Tips:
How to STOP POWERSURF or Unsubscribe To Globe Surf, Unli Call and Text Promos.
Note: Time based browsing using Powersurf is also available on POWERSURF15, POWERSURF30 and POWERSURF50. You will receive a message asking you to select MB or TIME browsing, just follow the instructions on how to activate your TIME or MB browsing. With time based browsing, you can consume every minute of the time in your POWERSURF not like the standard charging of P5 per 15minutes.
This Powersurf Globe Prepaid Plan Promos is extended until May 31, 2013. Check out for more details and updates about Globe POWERSURF Prepaid Plan.