Its here once more from Metrobank Online! Metrobank Credit Card promo for all gives special 2016 treats for every single receipt purchase direct using your Metrobank card. Until 2017, Metrobank Credit Card promo is still the best way to wisely spend for your fashion, tech, travel and food purchases since evrey minimum spend of 2,500 and 5,000 worth, there's an equivalent tasty treat.
Here's the latest Metrobank online creditcards promotions for every purchase. Just use your Metrobank credit card ANYWHERE for a minimum single-charge of P3,000 and get FREE munchies at Robinsons Supermarket!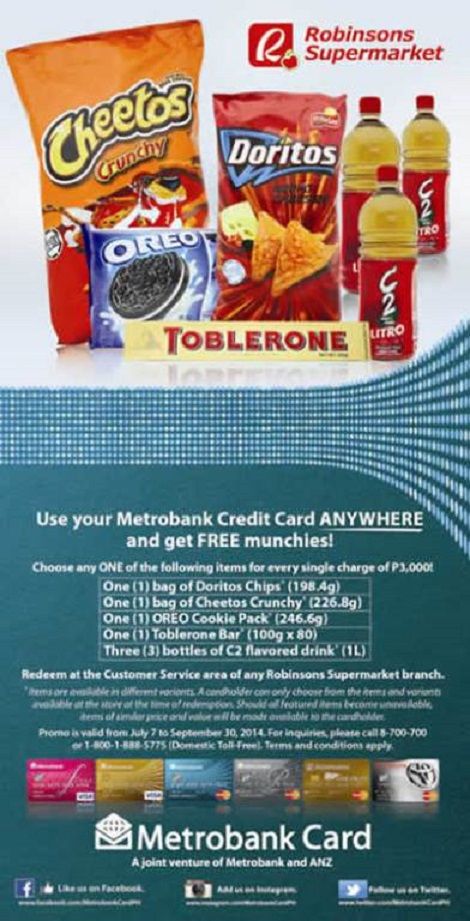 Promo Period for this Metrobank promotion starts from July 7 up to September 30, 2014. Redemption Period begins July 7 until November 30, 2014. Start your purchases now to avail of these FREE treats only from Metrobank.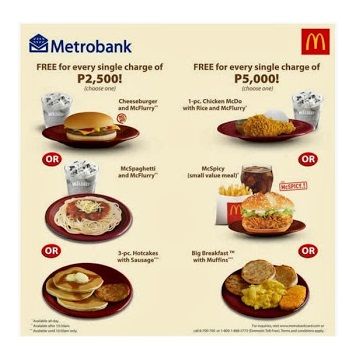 It's McDonald's treat this time of the year. Just spend a minimum of P2,500 on a single charge direct with your Metrobank credit card and get the following FREE:
– Cheeseburger and Mc Flurry or
– Mc Spaghetti and Mc Flurry or
– 3-pc hotcakes with sausage (for breakfast)
Also, for a single purchase of P5,000 charge slip, you get the following food treats for FREE:
– 1-pc Chicken Mc Do with rice and Mc Flurry or
– Mc Spicy small value meal or
– Big Breakfast with Muffins (for breakfast)
It's really the best thing for your budget. Another reason to spend more thru your Metrobank Credit Card. Its partnership with McDonald's gives you more tasty promo treats!  This Metrobank promo starts Oct. 15, 2013 to January 15, 2014.  Redemption of McDonald's treats is from October 15 – March 15, 2014.