Enjoy an indulging buffet treat with lavish spreads from Marriott Cafe this February 2019 with huge discounts on your dining budget. Get as much as 50% off for your Lunch and Dinner Buffet at Marriott Cafe.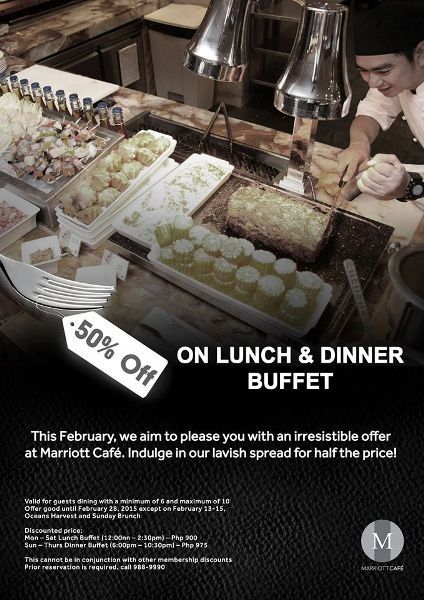 How To Get 50% OFF ON LUNCH & DINNER BUFFET AT MARRIOTT CAFE 2019 Promo:
– This promo is valid for guests dining with a minimum of 6 and maximum of 10 persons
– This promo offer is good until February 28 except on these dates :
February 13-15, Oceans Harvest and Sunday Brunch
Here's the Discounted Price Marriot Hotel Buffet Promo:
– Monday-Saturday Lunch Buffet – P900
– Sunday to Thursday Dinner Buffet – P975
For any reservations for this Marriott Hotel Manila Buffet Promo 2019, you may contact 988-9999.